Sebastian Stinzing - 24. May 2023 - Aktuelles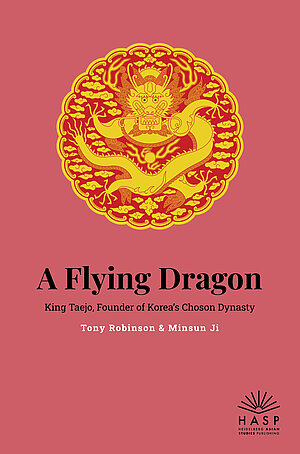 Soeben als Open Access Publikation bei Heidelberg Asian Studies Publishing (HASP) erschienen:
A Flying Dragon: King Taejo, Founder of Korea's Choson Dynasty von Tony Robinson und Minsun Ji.
Yi Seong-gye (1335-1408) began life as an obscure warrior of Korea's borderlands, but rose to overthrow the 500-year Goryeo dynasty and become King Taejo, who founded the 518-year Joseon dynasty, Korea's final royal lineage and the longest lasting Confucian dynasty in history. King Taejo's momentous life intersected with watershed East Asian developments: the collapse of the Mongol Empire in Korea, the rise of China's brilliant Ming dynasty, the pacification of massive Japanese pirating operations, and the rise of Asia's most thoroughly realized Confucian society in Joseon. This biography tells the tale, ending with the tragic descent of King Taejo's own family into fratricide and grief.
Auf unserer HASP-Plattform stehen Ihnen das Gesamt-PDF des Buches zum kostenlosen Download zur Verfügung. Parallel dazu ist eine Softcover-Ausgabe erschienen, die über den stationären Buchhandel und Online-Buchhändler erworben werden kann.